A gift for a lifetime. Smile Train is an organization specializing in surgically repairing deformed lip and cleft palates. The patients are newborn babies to adults. Smile Train provides 100% free treatment for Children around the World. It offers services 365 days a year on 5 continents. Other services offered are nutrition information, eating abilities, dental care, speech therapy, breathing, hearing, and more.
What causes cleft palate is unknown. Research suggests a genetic predisposition or environmental issues such as drugs, and alcohol use, smoking, maternal illness, infections, or lack of Vitamin B (folic acid)
Since 1999, Smile Train has partnered with doctors and over 1,100 hospitals in 90 countries to carry out its charitable surgeries and services.
Can we help build more self-esteem in individuals and for countries for a better World.
Smile Train is the world's largest cleft-focused organization, with a sustainable and local model of supporting surgery and other forms of essential care. Over the last 20+ years, we have supported safe and quality cleft care for 1.5+ million children and will continue to do so until every child in need with a cleft has access to the care they deserve.
Locating children in need
Local staff and in-country volunteers raise awareness about clefts and the services that Smile Train offers through media campaigns, visits to neighboring communities, health worker outreach, and word of mouth. Families learn that clefts can be treated at no cost at a local partner hospital.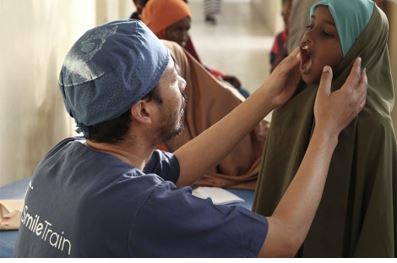 Empowering local medical professionals
Smile Train provides training and financial support for the treatment of clefts, empowering medical professionals around the world to treat cleft patients with life-changing surgery and related comprehensive cleft care that they would not otherwise be able to access.
The Smile Train Project is a CWC Project
Please visit www.smiletrain.org for more information and fundraising materials.
Donations should be sent to CWC Treasurer.