The Zero Hunger Challenge was launched by United Nations Secretary-General Ban Kimoon in 2012. The Zero Hunger vision reflects five elements from within the Sustainable Development Goals, which taken together, can end hunger, eliminate all forms of malnutrition, and build inclusive and sustainable food systems.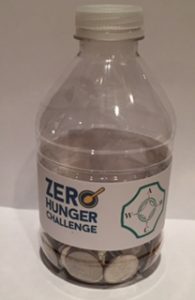 Jo Almond, USA Area President, has chosen ZERO HUNGER as her Campaign for this triennium.  At the Area Meeting, those in attendance, received a small water bottle with a logo on it and cloth pocket to fill with funds. Attached to the bottle was a poem that stated "Check your pockets every day for any dimes if you may. To help bring hunger to an end, Fill this little bottle to the Brim". These are to be used as examples to promote and support this campaign.  The proceeds from this campaign will be split between a United States hunger program and ACWW. Let's see what kind of a dent we can put into eliminating hunger throughout the world.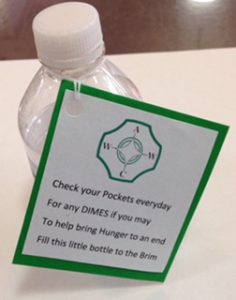 Additional Information about Zero Hunger
Instructions for Water Bottles
Zero Hunger Water Bottles Poem and Logos
If you have any questions about this campaign please contact Jo  Almond at acwwusajo.com. Funds should be sent to the CWC Treasurer.